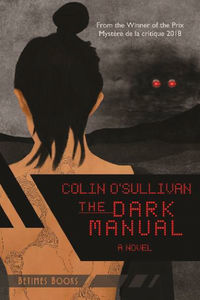 BACK
The Dark Manual
Other rights sold: Film/TV rights, USA !!!
Susie Sakamoto, an Irishwoman in Japan, spends her days drinking heavily and cursing the home robot that takes care of all her domestic needs. She despises the thing her dead husband designed and is under the impression that it is about to do her harm. To escape the overwhelming grief of her missing family, she takes to the night-time and the lawless section of the city, loitering in seedy bars with her wild, drug-fuelled, hypersexual friend, Mixxy. Are Susie's persecutions merely a result of her own paranoia? Or will she have to search for the mythic Dark Manual, to find a way to finally switch off the homebot and end her litany of woes? But it might already be too late…
Japan-based Irish writer Colin O'Sullivan couples his usual lyrical flourishes with tense and often terrifying noir-ish scenes, to present before us an unsettling vision of an anxious woman teetering in an anxious time.
Fans of Black Mirror, the dark humour of early Haruki Murakami, and even Asimov or Aldiss, will be keen to sample this frantic foray into a near and nervy future, soon to become a TV series.
More like this