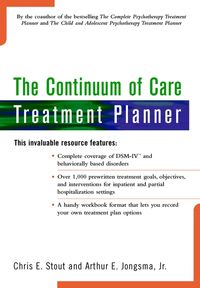 BACK
The Continuum of Care Treatment Planner
This valuable resource makes it easier than ever for clinicians tocreate formal treatment plans that satisfy all the demands of HMOs,managed care companies, third-party payers, and state and federalreview agencies. Focusing on psychological problems that requiretreatment in inpatient, partial hospitalization, or intensiveoutpatient settings, this planner provides treatment planningcomponents for 35 serious adult and adolescent behavioraldisorders. Following the user-friendly format found in thebestselling The Complete Psychotherapy Treatment Planner, ithelps to prevent treatment plan rejection by insurers and HMOs, andbrings heightened focus to the treatment process.

Provides behavioral definitions, long- and short-term goals andobjectives, therapeutic interventions, and DSM-IV diagnoses forserious mental disorders in adults and adolescents
* Organized by 35 major presenting problems and containing morethan 1,000 polished treatment plan components

* Designed for quick reference--treatment plan componentscan be created from behavioral problem or DSM-IV diagnosis

* Features a workbook format that offers plenty of space torecord customized goals, objectives, and interventions

* Provides a thorough introduction to treatment planning, plus asample plan that can be emulated in writing plans that meet allrequirements of third-party payers and accrediting agencies,including the JCAHO.
More like this