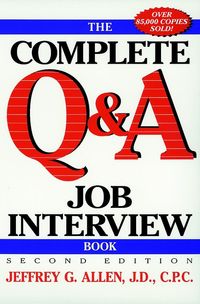 BACK
The Complete Q&A Job Interview Book
"The ultimate job interview book! A systematic, foolproof way to generate job offers. No job seeker should be without it." —National Job Market.
"The programmed system works because it is a simple, practical, proven way to interview properly. Use it to win the interview and win the job!" —Mary Lyon, Associated Press
"Allen's 'Q&A' interview approach eliminates the fear of the unknown, replaces it with the confidence of knowing what to expect, and trains the applicant to get job offers." —Kimberly A. Hellyar, Director, Training Consultants International.
Getting hired depends almost entirely on the "actor factor." Train yourself to know your lines, perfect your delivery, and dress for the part, and you'll get a job offer. Now, in a revised and expanded new edition of his bestselling guide, America's leading placement attorney shows you how to generate offer after offer by using simple, programmed interview techniques that can be learned quickly and easily.
The Complete Q&A Job Interview Book offers you your own personalized interview script to prepare you for anything that might be asked. Ten separate interview areas are covered, each with a failsafe delivery format. With new material on commonly asked questions about computer technology, this indispensable reference is your ticket to getting the job you want!
More like this