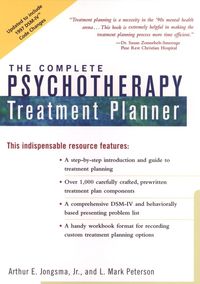 BACK
The Complete Psychotherapy Treatment Planner
A step-by-step introduction and guide to treatment planning
Over 1,000 carefully crafted, prewritten treatment plan components
A comprehensive DSM-IV and behaviorally based presenting problem list
A handy workbook format for recording custom treatment planning options. Develop comprehensive, individualized treatment plans in no time with this revolutionary treatment planning system.
With the advent of managed behavioral health care, the ability to write consistent, well-documented treatment plans is a skill that no clinician can afford to be without. Now, this comprehensive treatment planning guide provides you with all the essential building blocks you need to write polished, formal treatment plans that satisfy the demands of HMOs, managed care companies, third-party payers, and state and federal review agencies. Specially designed to save beleaguered clinicians hours of valuable time, while affording them optimum latitude in developing individualized treatment plans for each of their patients, The Complete Psychotherapy Treatment Planner is organized around 34 major presenting problems—from anger management to vocational stress—and features:
Over 1,000 well-crafted statements to choose from, describing behavioral manifestations for each problem, long-term treatment goals, short-term objectives, and therapeutic interventions
A quick-reference format—treatment plan components can be located by behavioral problem or DSM-IVTM diagnosis
An eclectic array of interventions for each problem, including cognitive, family-oriented, behavioral, dynamic, pharmacological, and a wide variety of other approaches
Presenting problem list includes all major DSM-IVTM adult categories, MMPI-2TM Content Scales, and every symptom dimension of Primary SCL-90-RTM
A simple, but comprehensive treatment plan format that can be copied and emulated
A unique workbook design, which provides ample space to record customized goals, objectives, and interventions
Developed by two veteran practitioners and fully "battle tested," the treatment planning system found in this book will enhance the quality of your clinical documentation, bring heightened focus to the treatment process, and eliminate the problem of vague treatment plans, which are often rejected by insurers and health management organizations.
More like this