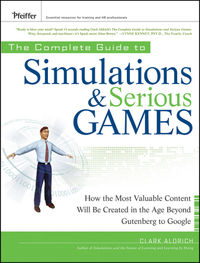 BACK
The Complete Guide to Simulations and Serious Games
How the Most Valuable Content Will be Created in the Age Beyond Gutenberg to Google
The Complete Guide to Simulations and Serious Games
The Complete Guide to Simulations and Serious Games offers an encyclopedic overview and complete lexicon for those who care about the next generation of educational media. This is the essential reference for not only those directly involved in simulations and serious games, but also for researchers and writers, computer game designers, policy makers, and entrepreneurs.
Organized as a style guide, the book includes more than 600 easy-to-browse entries and definitions, divided into key topics with introductory essays highlighting essential concepts. Written by Clark Aldrich—acclaimed educational simulation game designer—the book creates a unified view of capturing skills and knowledge and then developing them in others, through different uses of: computer interfaces, level design, bosses, dynamic systems, game elements, displays, units on maps, skill cones, feedback, assessment strategies, even balanced scorecards and artificial intelligence, just to name a few.
It balances tactical (what needs to go into a first level of a sim; what are questions to ask subject matter experts, how should programs be evaluated; when and how should coaches be used) to strategic (what is the difference between learning to know, learning to do, and learning to be; what does situational awareness look like when developing leadership or stewardship). In the spirit of Webster, Strunk and White, and Tufte, filled with helpful guidance and illustrative case studies, The Complete Guide to Simulations and Serious Games is the definitive "go-to" bookshelf reference for this generation.
More like this