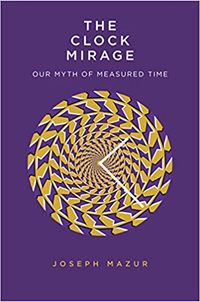 BACK
THE CLOCK MIRAGE
Our Myth of Measured Time
A tour of clocks throughout the centuriesfrom the sandglass to the telomereto reveal the physical, biological, and social nature of time
What is time? This question has fascinated philosophers, mathematicians, and scientists for thousands of years. Why does time seem to speed up with age? What is its connection with memory, anticipation, and sleep cycles?

Award-winning author and mathematician Joseph Mazur provides an engaging exploration of how the understanding of time has evolved throughout human history and offers a compelling new vision, submitting that time lives within us. Our cells, he notes, have a temporal awareness, guided by environmental cues in sync with patterns of social interaction. Readers learn that, as a consequence of time's personal nature, a forty-eight-hour journey on the Space Shuttle can feel shorter than a six-hour trip on the Soyuz capsule, that the Amondawa of the Amazon do not have ages, and that time speeds up with fever and slows down when we feel in danger.

With a narrative punctuated by personal stories of time's effects on truck drivers, Olympic racers, prisoners, and clockmakers, Mazur's journey is filled with fascinating insights into how our technologies, our bodies, and our attitudes can change our perceptions. Ultimately, time reveals itself as something that rides on the rhythms of our minds. The Clock Mirage presents an innovative perspective that will force us to rethink our relationship with time, and how best to use it.

Joseph Mazur is Professor Emeritus of Mathematics at Marlboro College, and is the author of five cross-disciplinary popular nonfiction books connecting mathematics to history, psychology, and literature, including Fluke: The Math and Myth of Coincidence (Basic Books, 2016; sold in 10 territories); Enlightening Symbols: A Short History of Mathematical Symbols and Their Hidden Powers (Princeton, March 2014; translated into 7 territories) The Motion Paradox: The 2,500-Year-Old Puzzle Behind All the Mysteries of Time and Space (Dutton, 2007; translated into 4 territories), and What's Luck Got to Do with It? The History, Mathematics, and Psychology or the Gambler's Illusion (Princeton, 2010; translated into 4 territories), and Euclid in the Rainforest: Discovering Universal Truth in Logic and Math (Pi Press, 2005; translated into 4 territories), which was a finalist for the PEN/America Martha Albrand Award for First Nonfiction. In 2012 The Guardian acclaimed this book as one of the "top 10 popular mathematics books" ever. The recipient of a Guggenheim Foundation Fellowship, a Bogliasco Fellowship, and a Rockefeller Bellagio Residency, a Fellow of the Vermont Academy of Arts and Sciences and a teacher at the Bread Loaf Writers Conference, he received his Ph.D. in mathematics from MIT.
More like this