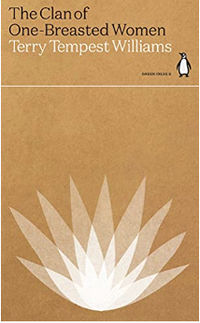 BACK
THE CLAN OF THE ONE-BREASTED WOMEN
This is a unique collection of the best essays by noted environmentalist and visionary Terry Tempest Williams assembled specially by Penguin Books - Green Ideas series.
With honesty, passion and heart, Terry Tempest Williams's essays explore the impact of nuclear testing, the vital importance of environmental legislation, and the guiding spirit of conservation.

Over the past 75 years, a new canon has emerged. As life on Earth has become irrevocably altered by humans, visionary thinkers around the world have raised their voices to defend the planet, and affirm our place at the heart of its restoration. Their words have endured through the decades, becoming the classics of a movement. Together, these books show the richness of environmental thought, and point the way to a fairer, saner, greener world.

Terry Tempest Williams (b.1955) is a writer and conservationist. Her creative non-fiction focuses on environmental justice, the protection of wilderness and humanity's relationship with the natural world.
More like this