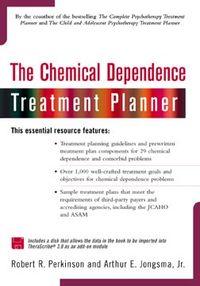 BACK
The Chemical Dependence Treatment Planner (with TS Upgrade)
Saves you hours of painstaking paperwork, while providing optimum latitude in developing innovative, customized treatment plans This valuable professional resource makes it easier than ever for professionals who treat chemically dependent patients to write polished, effective treatment plans that satisfy all the demands of HMOs, managed care companies, third-party payers, and state and federal review agencies. This comprehensive planner provides problem definitions, treatment goals, objectives, interventions, and DSM-IV diagnoses for 29 substance-abuse related problems. Following the same user-friendly format as the bestselling Complete Psychotherapy Treatment Planner, it is:
Organized by 29 main presenting problems and contains more than 1,000 well-crafted treatment plan components
Designed for quick reference?treatment plan components can be identified by behavioral problem or DSM-IV diagnosis
Covers factors that can impede recovery, such as impulse control, personality disorders, intimate relationship problems, and social stressors
Features a workbook format that provides plenty of space to record customized goals, objectives, and interventions
Provides a thorough introduction to treatment planning for novices, plus a sample plan that can be copied and emulated
Also Available from John Wiley & Sons...
The Chemical Dependence Treatment Planner, 256 pp. Paper (0-471-23794-9) (book/disk set)
The Complete Psychotherapy Treatment Planner (adult disorders), 176 pp. Paper (0-471-11738-2)
The Child and Adolescent Psychotherapy Treatment Planner, 240 pp. Paper (0-471-15647-7)
TheraScribe
®
3.0 for Windows
®
: The Computerized Assistant to Psychotherapy Treatment Planning, Single User (0-471-18415-2)
The Continuum of Care Treatment Planner, 208 pp. Paper (0-471-19568-5) (book only) (0-471-19569-3) (book/disk set)
More like this