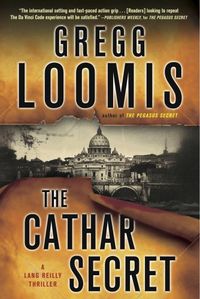 BACK
THE CATHAR SECRET
In the secret archives of the Vatican, an ancient Tibetan document has remained hidden to everyone but the highest authorities in the Catholic Church. Those authorities had long ago disposed of the Cathars, the religious sect who'd once attempted to spread the document's heresies of reincarnation.
Centuries later, a young boy's bizarre flashbacks as an Auschwitz prisoner threaten to prove the document's theory of reincarnation, shattering the faith of millions around the world. The Church will go to any lengths to protect the scrolls' contents and stop the boy, Wynn-Three, from spreading its heresies. But someone else has beaten them to it with an agenda of their own: the boy's flashbacks may help reveal a long-lost treasure, stashed by the Nazis for safekeeping. Kidnapping Wynn-Three, these criminals take him to the snowy slopes of Germany and Austria in hopes he will lead them to the loot. And ex-CIA agent Lang Reilly may be the only one who can track down his young neighbor, Wynn-Three. With criminals hot on his trail, Reilly races across Europe to rescue the boy. But if he can't pull the missing pieces together and uncover the missing document, Wynn-Three—and the Church's reputation—may both be lost to history. A fast-paced, intriguing thriller, The Cathar Secret enraptures from the controversial beginning until the shocking conclusion.

Gregg Loomis was born in Atlanta, Georgia, he spent his youth traveling the world, and has worked as a commercial pilot, a racecar driver, and a lawyer specializing in commercial litigation. When THE PEGASUS SECRETintroduced the world to lawyer Lang Reilly; Loomis charted that character's globetrotting adventures through five more novels: THE COPTIC SECRET, THE CATHAR SECRET, THE SINAI SECRET, THE JULIAN SECRET, and THE BONAPARTE SECRET.

They have been and continue to be international successes in translation (Loomis is published in Bulgaria by Bard & Ciela, Estonia by Ersen, French Canada by Modus Vivendi, Holland by Karakter, Indonesia by Penerbit Kenisius & Penerbit Tandabaca, Russia by Eksmo, Spain by Styria de Ediciones, and Turkey by Pegasus.

Now at home with Turner Publishing, Loomis is back to writing Lang Reilly thrillers with three new ones on the come: THE POISON SECRET, THE NASSAU SECRET, and THE ELIZABETHAN SECRET.
More like this