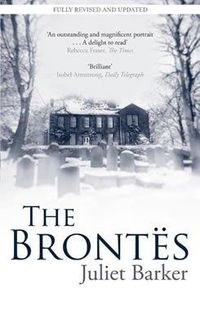 BACK
The Brontës
Juliet Barker's definitive history of the Brontë family demolishes many myths, including those created by Charlotte Brontë's first biographer, Mrs Gaskell.
Based on eleven years of research among newly discovered letters by every member of the family and by their circle, original manuscripts, historical documents and national and local newspapers published over fifty years, it gives a radically new picture of the Brontës' lives from beginning to end. The Brontës is a spectacular achievement: a vivid picture of nineteenth century Yorkshire; a treasure trove of new information, including poems, letters and childhood writings published for the first time in this book; and, most of all, an engrossing and intimate chronicle of an astonishingly creative family.
Juliet Barker was educated at Bradford Girls' Grammar School and St Anne's College, Oxford, where she obtained a doctorate in medieval history. From 1983 to 1989 she was the curator and librarian of the Bronte Parsonage Museum. Her books include The Brontes, which won the Yorkshire Post Book of the Year Award and was short-listed for both the AT&T Non-Fiction Prize and the Marsh Biography Award, The Brontes: A Life in Letters, Wordsworth: A Life, Wordsworth: A Life in Letters.
She is a frequent contributor to newspapers and appears regularly on radio and television. In 1999 she was one of the youngest ever recipients of an Honorary Doctorate of Letters, awarded by the University of Bradford, and in 2001 she was elected a Fellow of the Royal Society of Literature. She is married with two children and lives in the South Pennines.

Weblink:
http://www.andrewlownie.co.uk/authors/juliet-barker/books/the-bronts


More like this