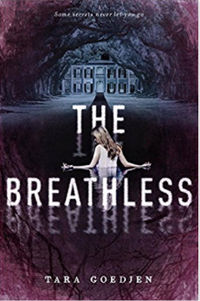 BACK
THE BREATHLESS
For fans of the dark family secrets of We Were Liars and the page-turning suspense of The Unbecoming of Mara Dyer, The Breathless is a haunting tale of deeply buried secrets, forbidden love, and how far some will go to bring back what's long dead.
No one knows what really happened on the beach where Roxanne Cole's body was found, but her boyfriend, Cage, took off that night and hasn't been seen since. Until now. One year—almost to the day—from Ro's death, when he knocks on the door of Blue Gate Manor and asks where she is.

Cage has no memory of the past twelve months. According to him, Ro was alive only the day before. Ro's sister Mae wouldn't believe him, except that something's not right. Nothing's been right in the house since Ro died.

And then Mae finds the little green book. The one hidden in Ro's room. It's filled with secrets—dangerous secrets—about her family, and about Ro. And if what it says is true, then maybe, just maybe, Ro isn't lost forever.

And maybe there are secrets better left to the dead.

Tara Goedjen grew up in Alabama, but, after receiving a scholarship to play tennis, left for college in Iowa. She spent time living in Alaska, holds a MFA from The University of Alabama, was an editor for Pan Macmillan in Sydney and now is a freelance editor. She lives in Monterey, California. Her fiction has appeared in journals such as AGNI, New England Review, Fairy Tale Review, BOMB, Kenyon Review Online, Prism: International, and Overland and her story collection was a finalist for last year's St. Lawrence Book Award.St. Lawrence Book Award.
More like this