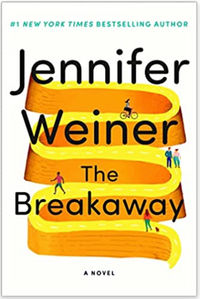 BACK
THE BREAKAWAY
From the #1 New York Times bestselling author of The Summer Place comes a bighearted and empowering new novel about one woman whose life is turned upside down when she leads a cycling tour group in upstate New York.
Thirty-three-year-old avid cyclist Abby Stern is at a crossroads. She is engaged to her childhood sweetheart and should be planning a fairytale wedding, but she can't escape a little voice in her head telling her something isn't right. A little voice that reminds her of one passionate night spent with a stranger three years ago, whom she never saw again. So when she gets a call from her best friend Lizzie asking her to fill in as leader for a twelve-day cycling tour trip through upstate New York, Abby doesn't think twice when she says yes.

But upon showing up to lead the tour group, Abby is horrified to see that, among her fellow cyclists, there is a familiar face. A face that had been haunting her dreams for the past three years - the stranger who she'd had off-the-charts chemistry with. And as if things couldn't get any worse, Abby's meddling mother Eileen shows up to tag along on the bike tour, bringing up past resentments that Abby had worked hard to forget. Over the course of the twelve days, unexpected connections form, family secrets are revealed, lines are blurred, and everything that Abby thought she knew about herself and what is possible will about to be changed.

An ode to the love of cycling, a poignant examination of family, and a testament to the strength of women's bonds, The Breakaway is a timely and empowering read about embracing every curve in the road and how breaking from the status quo is sometimes what it takes to forge your own path to happiness.

Jennifer Weiner is the #1 New York Times bestselling author of twenty books, including The Summer Place, That Summer, Big Summer, Mrs. Everything, In Her Shoes, Good in Bed, and a memoir in essays, Hungry Heart. She has appeared on many national television programs, including Today and Good Morning America, and her work has been published in The Wall Street Journal and The New York Times, among other newspapers and magazines. Jennifer lives with her family in Philadelphia.

Weblink:
JenniferWeiner.com


More like this