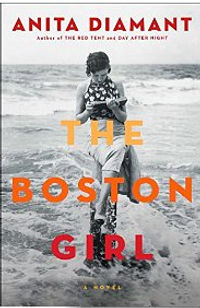 BACK
THE BOSTON GIRL
Addie Baum is a Boston Girl, born in 1900 to immigrant Jewish parents who live a modest life entrenched in Roxbury's Jewish community. Addie's intelligence and curiosity lead her to a more modern path. Addie wants to finish high school and to go to college. She wants a career, she wants to find true love. She wants to escape the confines of her family. And she does.
Boston Girl begins in 1985 when Addie Baum's 22 -year old granddaughter asks about Addie's childhood. Starting her story in 1915 – the year she began to question her role in the world -- Addie relates the story of her life. From the one-room apartment in Boston's West End she shared with her parents and two sisters, to the library groups for girls at the Salem Street Settlement where Addie finds refuge after high school and on Saturdays. To Rockport Lodge in a seaside town 40 miles north of Boston where Addie and other immigrant girls from the Settlement go for a vacation in the summers and make friendships that will last a lifetime and where they learn about art, boys, and sports. From her brother-in-law's shirt factory where she works as a secretary, to the offices of the Transcipt – one of Boston's evening newspapers -- where she begins as a secretary typing and answering phones and ends up writing a column about events "Seen and Heard" around Boston. From a first boyfriend to failed relationships, to the "real thing."

Addie's story is told against the backdrop of World War I, the flu epidemic, the ideas of Margaret Sanger, reforms in child labor laws, the growth of Reformed Judaism in America, and how the role of women was changed by all of this. Written with the same attention to detail and emotional impact that made Diamant's previous novels bestsellers, Boston Girl is a moving portrait of one woman's complicated life in the early 20th Century, and a window into the lives of all women seeking to understand the world around them.

Diamant is a prizewinning journalist who won awards for her work in The Boston Globe, Boston Magazine, and New England Monthly. She graduated from Washington University in St. Louis and has a Masters degree in English from SUNY Binghamton. She is the author of six books about contemporary Jewish practice, one collection of autobiographical essays (Pitching My Tent) and three prior novels. The Red Tent, her first novel, was an international bestseller and the Booksense Book of the Year. Good Harbor and The Last Days of Dogtown were both national bestsellers. Diamant lives in Massachusetts with her husband and daughter.

Weblink:
anitadiamant.com


More like this