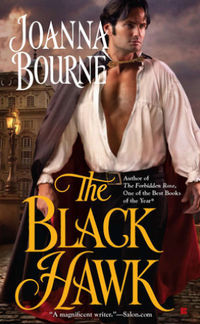 BACK
THE BLACK HAWK
Attacked on a rainy London street, veteran spy Justine DeCabrillan knows only one man can help her: Hawker, who also happens to be the enemy. With London crawling with hidden assassins and someone out to frame Hawker for the assault, the two spies must work together to find who's out to destroy them . . .
Someone is stalking French agent Justine DeCabrillac through London's gray streets. Under cover of the rain, the assassin strikesand Justine staggers to the door of the one man who can save her. The man she once loved. The man she hated. Adrian Hawkhurst.
Adrian wanted the treacherous beauty known as "Owl" back in his bed, but not wounded and clinging to life. Now, as he helps her heal, the two must learn to trust each other to confront the hidden menace that's trying to kill themand survive long enough to explore the passion simmering between them once again.

Joanna Bourne is the award-winning author of Rogue Spy, The Black Hawk, The Forbidden Rose, My Lord and Spymaster, and The Spymaster's Lady. She has always loved reading and writing romance. She's drawn to Revolutionary and Napoleonic France and Regency England because, as she puts it, "It was a time of love and sacrifice, daring deeds, clashing ideals, and really cool clothing." She's lived in seven different countries, including England and France, the settings of the Spymaster series. Bourne lives on a mountaintop in the Appalachians with her family, a peculiar cat, and an old brown country dog.
More like this