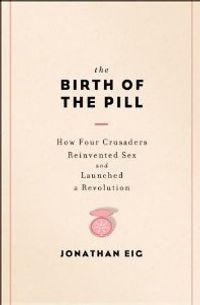 BACK
THE BIRTH OF THE PILL
How Four Crusaders Reinvented Sex and Launched a Revolution
The dramatic story of how Gregory Goodwin Pincus toiled for decades to develop the birth control pill. Eventually, his little pill would transform the lives and careers of millions of women and ignite a sexual revolution. But beyond the pill's indisputable impact, there's another remarkable story about its creation that's never been told: that of the passionate, brilliant, and tumultuous life of its creator.
Former Wall Street Journal reporter Eig (Get Capone: The Secret Plot That Captured America's Most Wanted Gangster, 2010, etc.) recounts the origin story of the oral contraceptive—"the pill"—as a scientific answer to a cultural conundrum: how to have sex without pregnancy.

The birth-control pill has been called the most important invention of the twentieth century. Yet its creation was anything but certain. This is the story of the eclectic group who created the pill against overwhelming odds: Gregory Pincus, the young scientist who was fired from Harvard University and forced to launch his own lab in a garage; Margaret Sanger, the radical feminist whose beliefs about sex frightened the old guard; Katharine McCormick, the philanthropist with a troubled past who bankrolled the research; and John Rock, the Catholic doctor with movie-star looks who battled his own church to win public support. Their story is told here with remarkable detail and narrative force by one of America's foremost popular historians. Jonathan Eig delivers both a gripping scientific suspense story and a powerful social and cultural history.

A well-paced, page-turning popular history featuring a lively, character-driven blend of scientific discovery and gender politics.

Jonathan Eig, a former reporter at the Wall Street Journal, is the bestselling author of The Birth of the Pill, Luckiest Man, Opening Day, and Get Capone. He lives in Chicago with his wife and children.

Weblink:
wwww.jonathaneig.com


More like this