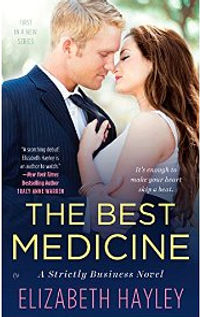 BACK
THE BEST MEDICINE
First book in a fun, flirty series about a woman falling in love with the doctor she's assisting. The author is a self-published writing duo with a strong readership.
After a run-in with the law leaves Lauren Hastings unable to get the internship she needs to pass her graduate school classes, she finds herself volunteering at the hospital where her sister is a nurse. It seems like it'll be a humiliating experience, yet Lauren settles right in as soon as she meets Dr. Scott, the gorgeous commitment-phobe who is used to getting what he wants.
The two engage in a no-strings attached, just-sex relationship, but as Scott starts to chip away at Lauren's layers, he begins to uncover the real reason for her contradictory and addictive personality. Will Scott's adherence to his own rules prevent them from ever becoming something more?

Elizabeth Hayley is the penname for "Elizabeth" and "Hayley," two friends who have been self-publishing romance novels since 2013. They are best known for their Pieces series, among other novels.
Elizabeth lives with her husband, daughter and dog in Pennsylvania.
Hayley lives with her husband, son and dog in Pennsylvania.
More like this