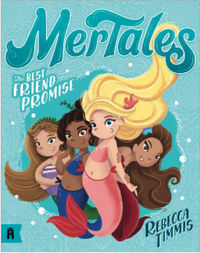 BACK
THE BEST FRIEND PROMISE
A sea-sational new series, packed with mermagic and flipperific adventure.
Today is Pearl's birthday, and she is planning a sea-sational day. But when Pearl takes a shortcut on the way to merschool and sees a shooting star fall into the ocean, things begin to drift off course...

Pearl's mermaid tail shimmers and sparkles, and now she can talk to animals!

But will Pearl's new magic powers be enough to save her best friends when they are cornered by a hungry reef dragon?

Rebecca Timmis is an author and illustrator. Her titles include Super Nova, written by Krys Saclier, which was shortlisted for an Aurealis Award, and Reggie Red, written by Josie Layton. Rebecca's writing has been shortlisted for the Text Prize and the Amazon Breakthrough Novel Contest.

Weblink:
www.rjtimmis.net


More like this