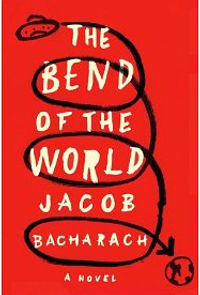 BACK
THE BEND OF THE WORLD
The most audacious literary debut to come out of the Steel City since The Mysteries of Pittsburgh.
Peter Morrison is twenty-nine. He lives in Pittsburgh. He's got a good job and weird girlfriend, and if his family's fortune isn't what it once was, his name—or his rich, hypochondriac grandmother, anyway—is still good for admission to the better parties. But his best friend, Johnny, is an addict and a conspiracy theorist, and people really do keep spotting UFOs hovering over the city.

Against this strange and luminous background, Peter meets Mark and Helen, a couple who are at once glamorous and slightly sinister, with whom, it's fair to say, our boy falls quickly and stupidly in love. While Johnny falls deeper down a rabbit hole of drugs and into a mad plan to alter the future by traveling back to the present, Mark takes Peter under his corporate wing and initiates him into a more mundane (maybe) conspiracy of secrets, lies, and legalese.

A coming of age novel in which no one quite comes of age, a Bildungsroman with the real reality's hostility to too much Bildung, THE BEND OF THE WORLD is a novel that asks not if we are all prisoners of our past, but prisoners of our own future. A genre-crossing hybrid of office comedy, society satire, and The X-files, Ned Beauman meets Joshua Ferris, Rachel Kushner by way of Philip K. Dick, THE MYSTERIES OF PITTSBURGH mugged in a dark alley by a cocaine-addicted sasquatch, this novel is the reason the world did not end in 2012. This is Jacob Bacharach's debut novel.

Jacob Bacharach is an arts administrator at the Pittsburgh Cultural Trust and manager of the Benedum Center for the Performing Arts. He has a BA in English and creative writing from Oberlin College. He lives in Pittsburgh.

Weblink:
http://books.wwnorton.com/books/The-Bend-of-the-World/


More like this