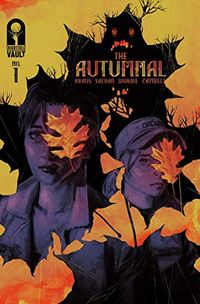 BACK
THE AUTUMNAL
Volume 1 (#1-8)
Following the death of her estranged mother, Kat Somerville and her daughter, Sybil, flee a difficult life in Chicago for the small town of Comfort Notch. The town is seemingly idyllic, a quaint but oddly standoffish place that is a great spotto see all the colors of fall foliage as the leaves begin to change each year. But when when Kat and Sybiil arrive, they find townspeople who are mysteriously eager to keep them away from the leaves. Comfort Notch is hiding something, a secret that unfolds as Kat and Sybil dig deeper to uncover the past of Comfort Notch, what really happened to Kat's estranged mother, and what Kat and Sybil's roles will be in the oncoming horror

Daniel Kraus is a New York Times bestselling author. He co-authored the novel The Shape of Water with Guillermo del Toro and was a co-creator for the Oscar-winning film. Also with del Toro, Kraus co-authored Trollhunters, which was adapted into the Emmy-winning Netflix series. Kraus's The Death and Life of Zebulon Finch was one of Entertainment Weekly's Top 10 Books of the Year. He has won two Odyssey Awards and has been a Library Guild selection, YALSA Best Fiction for Young Adults, Bram Stoker finalist, and more.

Written by Daniel Kraus. Illustrated by Chris Shehan.
More like this