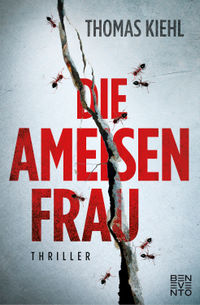 BACK
The Ant Woman
Lena Bondroit, a renowned ant researcher, witnesses a cold-blooded murder—and therefore becomes the target of an obscure organization. The organization seems to deliberately manipulate and alarm the public. But what is behind it: money, power, greed? Or is it all just a perfidious game?
A journalist is murdered in the heart of Berlin, immediately after he interviewed biologist Lena Bondroit about swarm intelligence and self-governing communities. He was on the trail of a secret organization and dealing with organized manipulation, the control of people, and fear. Crazy conspiracy theory or hard-hitting political intrigue? Lena asks inconvenient questions. And ends up in the line of fire because of it. Soon, she no longer knows whom to trust: Victor Callenberg, who is critical of the state and wants to blow the organization's cover but seems to be playing a double game? Or her new friend Michael Degenhart, an ambitious politician whose behavior becomes more and more dubious?
A fast-paced thriller on the collusive game of fear. Is it fueled deliberately? And who profits from it? And how can we defend ourselves?

Weblink:
https://www.beneventobooks.com/produkt/die-ameisenfrau-2/rights/


More like this