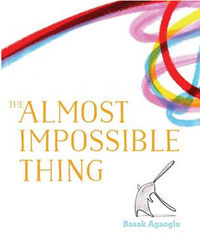 BACK
THE ALMOST IMPOSSIBLE THING
Nothing is so impossible that it shouldn't be tried. Even if you're a bunny hoping to fly. A tribute to teamwork, big dreams, perseverance, and those who don't listen when others say their goals are unreachable.
Most of us want to fly--even if we know we're rooted to the ground.Especiallyif we know we're rooted to the ground! So when a rabbit spots a bird soaring in beautiful, colorful loop-de-loops, a dream is born. Though her friends tell her "You can't do that!" our rabbit is undeterred. Through comical ski jumps, trampoline bounces, swings on the trapeze, and experiments with kites . . . somehow, some way, there must be a way to fly.

And there is! Teamwork.

Debut author/illustrator Basak Agaoglu delivers a story of faith, persistence, and humor--along with some of the most adorable, child-friendly art ever seen. For fans ofExtremely Cute Animals Operating Heavy Machinery.

Basak Agaoglu was born and raised in Adana, Turkey, before moving to New York to pursue a degree at the Fashion Institute of Technology. After graduating, Basak began her career as a designer in the fashion industry while also working on illustrations for a children's book. You Can't Do That is Basak's debut picture book. She currently lives and works in Brooklyn, NY.

Weblink:
www.basakagaoglu.com


More like this