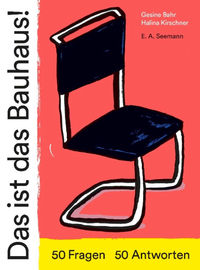 BACK
That's Bauhaus!
50 Questions – 50 Answers
• an entertainingly written introduction to the topic with cool illustrations • for all readers interested in design and art • "Best Book Design" – awarded by the Stiftung Buchkunst
What exactly is "Bauhaus"? Why and how does the German art school influence de-sign, architecture, and contemporary living around the world to this day? Fifty straightforward answers tell the story about this "laboratory of modernity" and the visionary, experimental and enthusias-tic members of the Bauhaus movement. A story about pioneering architecture and omnipresent design, about love, passion, hostility, dispute, and insights into how the concept of Bauhaus design made its way into the world.
More like this