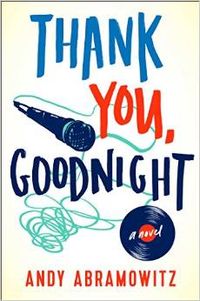 BACK
THANK YOU, GOODNIGHT
Nick Hornby meets Almost Famous in this side-splittingly funny coming-of-middle-age debut novel about the lead singer of a one-hit wonder 90s band who tries for one more hit.
Teddy Tremble is nearing forty and has settled into a comfortable groove, working at a stuffy law firm and living in a downtown apartment with a woman he thinks he might love. Sure, his days aren't as exciting as the time he spent as the lead singer of Tremble, the rock band known for its mega-hit "It Feels Like a Lie," but that life has long since passed its sell-by date.

But when Teddy gets a cryptic call from an old friend, he's catapulted into contemplating the unthinkable: reuniting Tremble for one last shot at rewriting history. Never mind that the band members haven't spoken in ten years, that they left the music scene in a blazing cloud of indifference, that the only fans who seem to miss them reside in an obscure little town in Switzerland, and that he'd be abandoning his long-time girlfriend in her time of need for a chance to be with the one woman he's never quite managed to leave in the past.

If Teddy manages to snooker his band mates out of their adult lives, can a once immature, self-involved fallen idol find his way back to the top—and possibly back to the one who got away? Thank You, Goodnight is debut novelist Andy Abramowitz's hilarious, honest, and heart-warming story about love, lyrics, and finding one's legacy in the unlikeliest of places.

Andy Abramowitz lives in Philadelphia with his wife and two daughters. Like Teddy Tremble, he is a lawyer with a past in music. Unlike Teddy, he has no musical legacy to correct. He is hard at work on his second novel.
More like this