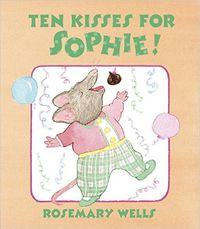 BACK
TEN KISSES FOR SOPHIE
Another pitch-perfect story about an irrepressible, charming, and endearing two-year-old from the creator of Max & Ruby.
There's going to be a party! Sophie and her mother are making a very special treat: chocolate kisses with pistachio cream filling. Yum!

There will be nine guests plus Sophie, and they've made ten kisses. Just enough. But then the telephone rings and everything changes. . .

Irrepressible Sophie will charm readers once again in a story that goes straight to the heart of toddler concerns.

Rosemary Wells is the author of many books for children, including the Max and Ruby books about the popular bunnies who star in their own show on Nick, Jr. She travels widely speaking on behalf of early literacy. She lives in New England. Visit her at www.rosemarywells.com.

Weblink:
rosemarywells.com


More like this