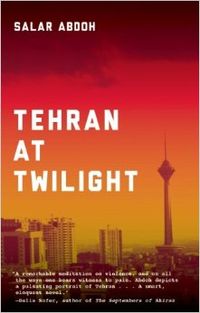 BACK
TEHRAN AT TWILIGHT
Friendship, betrayal, and international intrigue populate this brilliant novel in the tradition of Graham Greene and John le Carré.
The year is 2008. Reza Malek's life is modest but manageable he lives in a small apartment in Harlem, teaches "creative reportage" at a local university, and is relieved to be far from the blood and turmoil of Iraq and Afghanistan where he worked as a reporter, interpreter, and sometime lover for a superstar journalist who has long since moved on to more remarkable men.

After a terse phone call from his best friend in Iran, Sina Vafa, Reza reluctantly returns to Tehran. Once there, he finds far more than he bargained for: the city is on the edge of revolution; his friend Sina is embroiled with Shia militants; his missing mother, who was alleged to have run off with a lover before the revolution, is alive and wellwhile his own life is in danger.

Against a backdrop of corrupt clerics, shady fixers, political repression, and the ever-present threat of violence, Abdoh offers a telling glimpse into contemporary Tehran, and spins a compelling morality tale of identity and exile, the bonds of friendship, and the limits of loyalty.

Salar Abdoh was born in Iran, and splits his time between Tehran and New York City, where he is codirector of the Creative Writing MFA Program at the City College of New York. He is the author of The Poet Game and Opium. His essays and short stories have appeared in various publications, including the New York Times, BOMB, Callaloo, Guernica, and on the BBC. He is the recipient of the NYFA Prize and the National Endowment for the Arts award. He is the editor of Tehran Noir and the author of Tehran at Twilight, his latest novel.
More like this