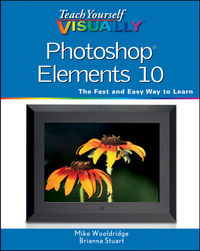 BACK
Teach Yourself VISUALLY Photoshop Elements 10
See what to do and how to do it in this visual guide to Photoshop Elements 10
If you want practical coverage of the most important features of Photoshop Elements 10, this book is for you. Packed with step-by-step instructions illustrated with full-color screen shots, this book clearly shows you how to do tasks, rather than using lengthy explanations. Even better, the book includes an associated website with all the images in the book available for download, so you can get hands-on practice as you go. It's an efficient, easy-to-follow way to get up to speed on the latest and best that Photoshop Elements 10 has to offer.
A visual guide to Photoshop Elements 10, perfect for visual learners
Helps you build your skills through clear, step-by-step instruction and ample, full-color illustrations
Covers important new features such as importing photos from digital cameras and scanners, retouching and repairing damaged photos, enhancing digital images, perfecting group shots with Photomerge, and editing images for posting on the web
Also covers using the sharpness interface to correct blurry images, exploring the Curves tool to adjust contract and brightness, and organizing images with auto-stacking
Get the very most out of Photoshop Elements 10 with Teach Yourself VISUALLY Photoshop Elements 10.
More like this