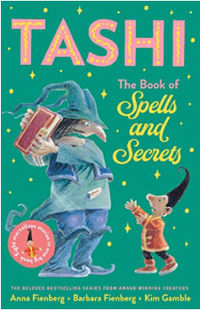 BACK
TASHI COLLECTION 4
The Book of Spells and Secrets
Tashi Collection 4: The Book of Spells and Secrets contains Tashi Lost in the City; Tashi and the Haunted House; Tashi and the Forbidden Room; Tashi and the Royal Tomb
Tashi turns 25 this year and we're celebrating with a repackaging and new bind-up arrangements of our 16 Tashi title series.
They are now compiled into four Tashi stories under a theme.
Explore the wonderful world of Tashi in these eight magical adventures in one volume!

Where there's mystery and action, there's Tashi! He's brave enough to explore the ancient burial site discovered in the village and he's clever enough to complete three impossible tasks. But is he fast enough to beat two mysterious strangers in a race around the village? And what will happen if he loses? When the going gets tough, it's all up to Tashi!
More like this