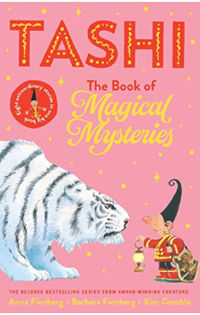 BACK
TASHI COLLECTION 3
The Book of Magical Mysteries
Tashi Collection 3: The Book of Magical Mysteries contains Tashi and the Ghosts; Tashi and the Genie; Tashi and the Dancing Shoes; Tashi and the Golem
Tashi turns 25 this year and we're celebrating with a repackaging and new bind-up arrangements of our 16 Tashi title series.
They are now compiled into four Tashi stories under a theme.
Explore the wonderful world of Tashi in these eight mystifying stories in one volume!.

No one in the village is as brave as Tashi. Only he could scare the ghost monsters out of the forest, or travel all the way along the dark underground passage to the Mountain of White Tigers. Tashi always has a cunning plan, whether he is facing a ferocious war lord, outwitting a sly genie or confronting Bang Bang, the trouble-making bully. There's no stopping Tashi!
More like this