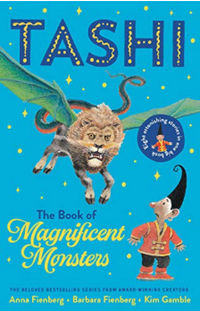 BACK
TASHI COLLECTION 2
The Book of Magnificent Monsters
Tashi Collection 2: The Book of Magnificent Monsters contains Tashi and the Mixed-up Monster; Tashi and the Phoenix; Tashi and the Demons; Tashi and the Baba Yaga
Tashi turns 25 this year and we're celebrating with a repackaging and new bind-up arrangements of our 16 Tashi title series.
They are now compiled into four Tashi stories under a theme.
Explore the wonderful world of Tashi in these eight monstrously exciting stories in one volume!

Tashi is full of incredible tales. Like the one about a hideous monster that burst out of the garden workshop, or the one about slippery demons who tried to make Tashi talk, or the one about a house on chicken legs and a witch who eats children. Good thing Tashi is always ready for anything, with a clever idea and something useful in his pocket!
More like this