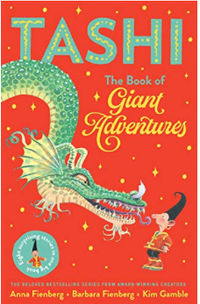 BACK
TASHI COLLECTION 1
The Book of Giant Adventures
Tashi Collection 1: The Book of Giant Adventures contains Tashi; Tashi and the Giants; Tashi and the Big Stinker; Tashi and the Stolen Bus
Tashi turns 25 this year and we're celebrating with a repackaging and new bind-up arrangements of our 16 Tashi title series.
They are now compiled into four Tashi stories under a theme.
Explore the wonderful world of Tashi in these eight enormous adventures in one volume!

Tashi always has daring adventures. Like the time he meets Chintu, the giant as big as a mountain, or the time that Chintu's Only Brother wants to eat everything in the village, or the time when the demons sneak onto the new bus and kidnap the driver's son. But clever Tashi always knows what to do: stay calm, think hard and move fast!
More like this