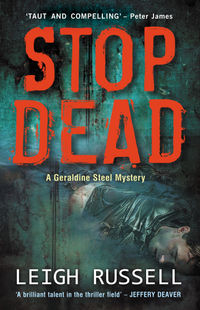 BACK
STOP DEAD
Detective Inspector Geraldine Steel returns in an exhilarating case of grisly murder in London.
When a successful businessman is brutally murdered, the police suspect his glamorous wife and her young lover. But when the victim's business partner suffers the same gruesome fate, and yet another body is discovered, seemingly unrelated to the first two, the police are baffled. The only clue is DNA that leads them to two women: one dead, the other in prison. With a steady stream of bodies arriving at the morgue, can DI Geraldine Steel find the killer before the killer stages another deadly attack?

Leigh Russell is an English teacher. CUT SHORT (2009), the first in her series of British crime thrillers featuring Detective Inspector Geraldine Steel, was shortlisted for the prestigious Crime Writers Association New Blood Dagger Award for Best First Novel. Described as "a stylish, top-of-the-line crime tale" by Jeffery Deaver, it was well reviewed in the UK and the US and quickly became a bestseller. ROAD CLOSED (2010)received glowing reviews in the UK and the US and also quickly became a bestseller.

Weblink:
http://www.noexit.co.uk/titles.php/itemcode/526


More like this