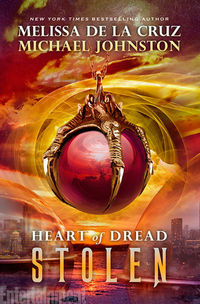 BACK
STOLEN
Nat and her drakon are the last of their kind— sworn to protect what their enemies seek to control—and she's risked her life for their reunion.
But fighting for the majestic Blue meant saying good-bye to Wes, breaking both their hearts.

Back in New Vegas, citizens are threatened by the resurgence of magic and declare war on all the marked. Wes and his team travel to the extravagant indoor city of El Dorado looking for his sister, but when they are caught on the wrong side of the RSA's strict new laws, Wes is forced to do the un- thinkable—surrender and rejoin the military's quest to uncover the magical source, the same land Nat is struggling to protect.

Now he and Nat find themselves on opposing sides of a war that could potentially destroy what's left of the world.

Melissa de la Cruz is the New York Times, USA To- day, Wall Street Journal, Los Angeles Times and Publishers Weekly internationally bestselling author of many critically acclaimed novels. Her Blue Bloods series has sold over three million copies and the Witches of East End series is now a television drama on the Lifetime network.

Michael Johnston is Melissa's husband and hereto- fore "silent partner." He is co-creator of the Blue Bloods and Witches of East End series. Melissa and Michael live in Los Angeles and Palm Springs, California.

Weblink:
www.melissa-delacruz.com


More like this