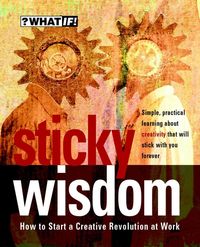 BACK
Sticky Wisdom
How to Start a Creative Revolution at Work
What if you could spot what's killing creativity in your organization right now?
What if you could stop yourself squashing ideas and start growing them instead?
What if you could help everyone at work to be creative?
What if you stopped talking about how important creativity is and started to take practical steps to make it happen.
But most of all....
What if there was a step-by-step guide that showed you exactly how to do it?
Instinctively we all know that creativity at work is important, but for many of us it feels either difficult or intimidating.
Sticky Wisdom delivers powerful insights that take creativity out of the hands of 'creative people' and puts it back where it belongs, with all of us. It breaks creativity out into six practical behaviours and shows how every one of us - not just the wacky geniuses - is packed with creative potential. We can start a creative revolution by adopting six behaviours:
Freshness
Greenhousing
Realness
Momentum
Signalling
Courage
These are the behaviours you can identify in highly creative and high-performing teams. These are the behaviours that you can start applying today to revolutionize your life.
Suddenly creativity isn't such a mystery. Sticky Wisdom makes it easy to talk about, easy to practise and easy to remember. Above all, it makes it easy to get on and do!
More like this