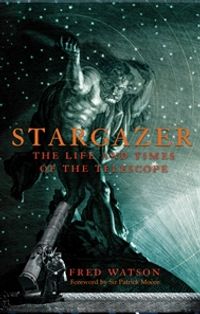 BACK
STARGAZER
The Life And Times Of The Telescope
An anecdotal history of the development of the optical telescope and the people involved, culminating in the author's predictions for future developments.
The telescope is literally the world's most far-reaching invention. It can unlock nature's secrets in the remotest corners of the universe. It is a time machine, allowing us to look billions of years into the past for answers to some of our most profound questions.

In its four hundred year history, the telescope has progressed from a crudely fashioned tube holding a couple of spectacle lenses to colossal structures housed in space-age cathedrals. Such giants attract universal attention, even among people with no interest in astronomy. They sit right on the boundary between the mysteries of the Universe and today's cutting-edge technology.

How did this potent mix of art, science and engineering reach its present level of sophistication? The history of the telescope is a rich story of ingenuity and perseverance involving some of the most colourful figures of the scientific world. It begins in ancient times, with enigmatic whispers of telescope-like inventions finding their way into classical writing. It gathers momentum through the Renaissance, with the first recorded telescope bursting onto the scene in the middle of a diplomatic crisis in seventeenth century Holland. And it relates how the increasing demands of astronomers made the instrument ever more refined, more capable-and bigger.

Stargazer brings the story of the telescope to a general readership for the first time. Written by one of Australia's best-loved astronomers, it presents the most up-to-date historical scholarship in a lively and uniquely entertaining manner. It is the perfect introduction to the telescope in the run-up to its four hundredth birthday.

Dr Fred Watson is Astronomer-in-Charge of the Anglo-Australian Observatory at Coonabarabran in central NSW, where he is responsible for the scientific output of Australia's largest optical telescope. Fred writes regularly for Sky + Space magazine and the annual Yearbook of Astronomy. His articles have also appeared many well-known journals, including New Scientist, Sky + Telescope and Astronomy Now. Fred is a frequent broadcaster, and has a monthly phone-in show on ABC radio.
More like this