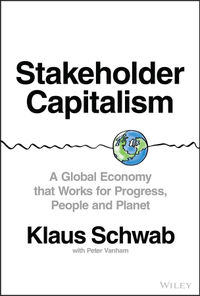 BACK
Stakeholder Capitalism
A Global Economy that Works for Progress, People and Planet
Major issues continue to plague the world economy. Income inequality has risen steadily over the past few decades, while productivity and wage growth have slowed, and countries remain burdened by high levels of debt. The market power of the world's largest companies has reached unprecedented levels, raising questions about the spread of innovation and productivity gains. Finally, the exploitation of natural resources is damaging the environment and having real, negative consequences on billions of people.
While the debate over the causes of these problems rages on, Professor Klaus Schwab, Founder of the World Economic Forum, argues persuasively in Stakeholder Capitalism that current systems fail to account for or address many of the issues we now face. With his collaborator Peter Vanham, he demonstrates that a holistic response, involving government, business, and individuals, is required to solve these deep-rooted challenges.
In the book, Schwab discusses the need for a new social contract with shared responsibility. He provides achievable and actionable advice for companies and governments, NGOs and civil society, and emerging and established economies. He tackles major discussions, including whether an overhaul of global institutions is necessary. He considers best practices from around the world, including Asia, Africa, and Europe. And, he suggests how a stakeholder approach would allow for better outcomes.
Perfect for all readers interested in economics and global issues, Stakeholder Capitalism: A Global Economy that Works for Progress, People and Planet is a siren call for all of us with a stake in the global economy to do our part to improve the world around us.
More like this