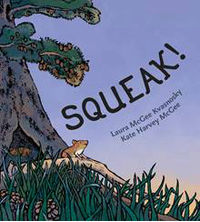 BACK
SQUEAK!
Who knew that one little noise could set off a whole cacophony? In this chain-reaction story, the animal world wakes up with a squeak!
Early one morning, a gentle breeze tickles the ear of a small mouse, and he wakes up with a squeak! That squeak wakes up the some chipmunks, who rattle tree branches and knock pinecones into the river. Those pinecones wake the trout, who splash around and wake up an elk on the riverbank.

And so goes the story of Squeak!, a chain-reaction story set in a beautiful, rolling landscape with animals who are all woken up one by one with the rising of the sun. With lush and vivid art, and plenty of fun animal noises on each page, this story is a perfect read-aloud to wake up to--or to read any time of day.


Laura McGee Kvasnosky grew up in Northern California. She is the author of the Zelda and Ivy books, one of which won dual Golden Kite Honors Awards in 1999 from the Society of Children's Book Writers and Illustrators (SCBWI), and the American Library Association's 2007 Theodor Seuss Geisel Award as America's most distinguished book for beginning readers published that year. Along with Kate Harvey McGee, she is also the author of Little Wolf's First Howling, which won the Margaret Wise Brown Honor Book Award for children's literature text. Laura lives in Seattle.

Kate Harvey McGee is a celebrated fine artist who specializes in pastel landscapes. Her work has been exhibited widely in the Pacific Northwest. Little Wolf's First Howling, which she illustrated with Laura McGee Kvasnosky, was her first children's book. Kate lives in Oregon.

Weblink:
www.lmkbooks.com


More like this