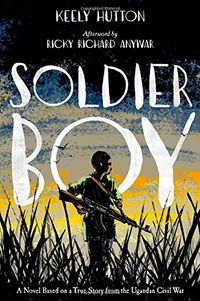 BACK
SOLDIER BOY
Soldier Boy begins with the story of Ricky Richard Anywar, abducted at age fourteen in 1989 to fight with Joseph Kony's rebel army in Uganda's decades-long civil war. Ricky is trained, armed, and forced to fight government soldiers alongside his brutal kidnappers, but never stops dreaming of escape.
This exciting young adult novel is based on the true life story of Ricky Richard Anywar, who was a child soldier in Uganda in the late 1980s and now runs the Friends of Orphans Center in Pader, Uganda. In the novel, a young boy named Samuel comes out of the bush, having escaped Joseph Kony's Lord Resistance Army, and ends up at the Friends of Orphans Center. Frightened and traumatized, Samuel meets a man who tells him a story of a boy whose family was killed by the LRA, except his brother Patrick, with whom he was forced to fight alongside his kidnappers for years. He finally escapes, by never losing hope and remembering the true meaning of home. That man ends up being Ricky Anywar.

A portion of the proceeds to SOLDIER BOY will go directly to Friends of Orphans Center in Uganda.

Keely Hutton is an educational journalist and former teacher. She is the recipient of the Highlights Foundation Writers Workshop scholarship at Chautauqua. Since 2012, she has been working closely with Ricky Richard Anywar to tell his story. Soldier Boy is her first novel.
Ricky Richard Anywar is the founder of the internationally acclaimed charity Friends of Orphans, and a former child soldier in Ugandan warlord Joseph Kony's Lord's Resistance Army (LRA). Since escaping the LRA, Anywar has dedicated his life to rehabilitating other survivors and advocating for peace in their communities.
More like this