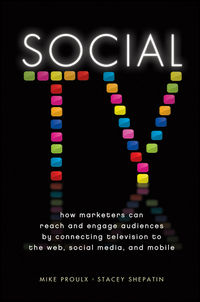 BACK
Social TV
How Marketers Can Reach and Engage Audiences by Connecting Television to the Web, Social Media, and Mobile
When Beyoncé revealed her baby bump live at the 2011 MTV Video Music Awards, 8,868 tweets burst into the Twitterverse over the course of a single second. When Jeff Probst began live-tweeting during the Spring 2011 season of Survivor, the volume of tweets per episode was, in most cases, five to seven times higher than the previous season. And the charming Volkswagen "Darth Vader" commercial, where a boy thought he used "the Force" to start his dad's Passat, inspired people to go online and view the 60-second spot 45 million times on YouTube. The Internet didn't kill TV! It has become its best friend.
Americans are watching more television than ever before, and we're engaging online at the same time that we're tuning in. Social media has created a new and powerful "backchannel," fueling the renaissance of live broadcasts. Mobile and tablet devices allow us to watch and experience on-demand television whenever and wherever we want. And connected TVs blend Web and television content into a unified big screen experience, bringing us back into our living rooms.
Social TV takes a fresh look at television as it sheds its "traditional media" stigma and helps brands navigate TV as a fertile "new media" filled with many emerging opportunities to reach audiences. Advertisers can no longer count on TV programs alone—they must redefine television as a cross-channel media experience to ensure that their brand transcends devices, applications, and screens.
Social TV shares proven advice on how to:
Leverage the "second screen" to drive synched and deeper brand engagement

Use social ratings analytics tools to find and target lean-forward audiences

Align brand messaging with content as it travels time-shifted across devices

Determine the best strategy to approach marketing via connected TVs

Test and learn from the most cutting-edge innovations in television
The rise of one technology doesn't always mean the end of another. Discover how the convergence of television and the Internet has created new marketing opportunities for your brand.
More like this