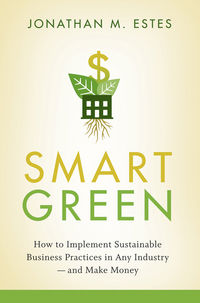 BACK
Smart Green
How to Implement Sustainable Business Practices in Any Industry - and Make Money
As eco-conscious citizens and consumers search for answers to today's environmental problems, businesses are rushing to deliver the sustainable products, services, and business practices they want. But how can businesses—including yours—do this without sacrificing profitability? Can we find a way to keep the Earth and the bottom line healthy?
Not since the heyday of the early dot-com era has there been so much energy and enthusiasm surrounding the endeavor of entrepreneurship. Back then, everyone was scrambling to seize the opportunity to profit from the Internet boom. Today, everyone is scrambling to get in on the ground floor of the green boom—and cash in on the eco-conscious products, practices, and technologies we need to build a sustainable world.
While there is more interest than ever in sustainability in the business community, there has never been a practical, real-world guide that shows entrepreneurs how to meld sustainability and business success. Smart Green explores the best ideas in sustainable business, helps you plan a sustainability strategy, and presents case studies and business principles to show you how it's done.
Smart Green is not only the perfect book for entrepreneurs, it's also great for anyone interested in business, the environment, and how they interact. It answers questions we should all care about, including:
What is sustainability?

How do you build a strategic plan to achieve it?

What are the benefits of marketing your green initiatives to customers?

What are the key issues entrepreneurs will face in achieving sustainability?

How can we lessen the tension and create cooperation between the business and environmental communities?
Entrepreneurs are the stuntmen of the business world—taking risks others wouldn't in exchange for rewards others can't imagine. Today, there's a massive gap between the environmentally conscious products and services consumers want and what businesses have on offer. Government won't solve the problem of sustainable business; smart, green entrepreneurs will.
For business leaders who want to find a way to go green without giving up greenbacks, Smart Green offers an analytical, verifiable model that ensures profitability, lowers risk, and decreases the environmental impact of business.
More like this