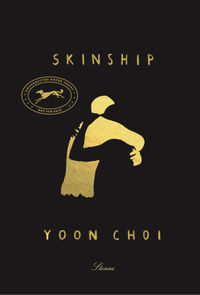 BACK
SKINSHIP
Stories
Eight novelles in one book by a new literary voice.
A long-married couple is forced to confront their friend's painful past when a church revival comes to a nearby town...

A woman in an arranged marriage struggles to connect with the son she hid from her husband for years...

A well-meaning sister unwittingly reunites an abuser with his victims...

Through the lives of an indelible array of individuals Yoon Choi explores the Korean-American experience at its interstices: Where first and second generations either clash or find common ground. Where meaning falls in the cracks between languages. Where relationships bend under the weight of tenderness and disappointment. Where displacement turns to heartbreak.

Suffused with a profound understanding of humanity, SKINSHIP is, ultimately, a searing look at the failure of intimacy to show us who the people we love truly are.

YOON CHOI was born in Korea and moved to the U.S. at the age of three. She has an MFA from Johns Hopkins and is a former Stegner Fellow at Stanford. Her stories and essays have appeared in The New England Review, Michigan Quarterly Review, Narrative, and Best American Short Stories 2018. She lives with her husband and four children in Anaheim, California.
More like this