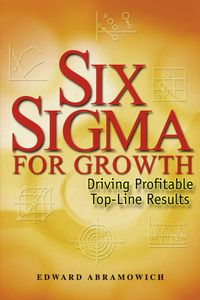 BACK
Six Sigma for Growth
Driving Profitable Top-Line Results
Six Sigma is one of the most successful management initiatives of recent times and is now well-established in a wide variety of industries. Companies that adopt Six Sigma send a strong message to their customers and shareholders that they are committed to delivering the highest quality products and services at competitive prices.
Many Six Sigma initiatives are focused mainly on process efficiency: lowering costs, improving quality and streamlining business processes. Efficiency, however, is not synonymous with growth. The reality is that no matter how efficient your production, how high your quality and how cheap your products, if customers do not buy, your business is in trouble!
This book presents a new approach that several leading Six Sigma companies are using to drive business growth. It offers a vision of how to identify and profitably solve customers' problems - helping them become successful – and introduces a Six Sigma for Growth toolset based on enhanced Six Sigma and Design for Six Sigma methods. The aim is to set out a framework for applying Six Sigma methodologies to make the biggest difference, namely to drive growth directly.
More like this