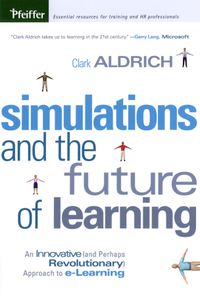 BACK
Simulations and the Future of Learning
An Innovative (and Perhaps Revolutionary) Approach to e-Learning
Recent research studies are proving what many of us have quietly suspected all along— our children are actually learning new ways to learn when they spend hour after hour with their Game Boy, PlayStation, 2, Xbox, or other video game console. Just imagine what it must be like for this generation to go from complexity, immersion, and hands-on interactivity of The Sims to a classroom lecture. Now this same generation is preparing to enter the corporate workforce, the military, public service, and our higher education institutions. Are our trainers and educators prepared to meet the escalating needs and potential of this next generation?
Simulations and the Future of Learning offers trainers and educators the information and perspective they need to understand, design, build, and deploy computer simulations for this generation. Looking back on his recent first-hand experience as lead designer for an advanced leadership development simulation, author Clark Aldrich has created a detailed case study of the creation and deployment of an e-learning simulation that had the development cycle of a modern computer game. With this book Aldrich, a leader in the e-learning field, has created an intriguing roadmap for the future of learning while taking us along on an entertaining rollercoaster ride of trial and error, success and failure. Simulations and the Future of Learning outlines the design principles and critical decisions around any simulation's components— the interface, the physics and animation systems, the artificial intelligence, and sets and figures. Using this accessible resource, readers will learn how to create and evaluate successful simulations that have the following characteristics: authentic and relevant scenarios; applied pressure situations that tap user's emotion and force them to act; a sense of unrestricted options; and replayability.
Revealing the incredible flexibility and depth of this learning technology, Simulations and the Future of Learning challenges policy-makers and futurists as well as educators and trainers to rethink classroom-as-usual instruction and take steps toward a brighter future of learning.
More like this