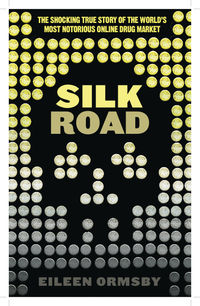 BACK
SILK ROAD
The eBay Of Illicit Drugs
A first-hand reportage about the internet's response to the war on drugs, the online trading platform for drugs named Silk Worm.
The so-called War on Drugs has been an abject failure. Zero tolerance policies have led to untold deaths, from the bloodshed of the drug cartels in Central and South America, to the user on the street who has no way of determining the purity of what he has bought.

Against this backdrop of prohibition rises Silk Road, a website that provides a marketplace for illicit drugs, bringing together end users and sellers. Users have the protection of an eBay-like feedback system and independent reports on the quality of the drugs, while sellers have the protection of absolute anonymity.

Led by the articulate and charismatic Dread Pirate Roberts (real name, gender and location a mystery; a veritable Banksy of the black markets), in its two-year existence, Silk Road has grown from an obscure site on the darknet accessible by few, to a thriving business, with a turnover of $22 million and growing.

The solidity of the model, the inability of authorities to shut it down and it's ever-growing, mainly white-collar customer base is cause for a rethink on drug policy. And the site's growth from a tiny black market that included weapons and stolen credit cards to a site with a philosophy of 'no harm unto others' that holds sales and prize giveaways, the lively and highly engaged online community, the scams and ripoffs, the conspiracy theories and the attempts by law enforcement to bring it down all make for a fascinating and entertaining story.
The author is in the unique position of being the only journalist trusted by the Silk Road community to the point that some have shared leaked documents from the FBI and Australian police – documents that were never meant to be seen by the public.

Eileen Ormsby is a former lawyer turned writer and investigative journalist with an ongoing commission with Fairfax for in-depth features. She wrote the first major Australian mainstream piece on Silk Road for The Age/Sydney Morning Herald. Since then, she has written several features on Silk Road and the 'Dark Web' and is sought out for interviews about online black markets. In February 2013, one of her articles was tendered as evidence in the County Court in the first ever prosecution of a Silk Road drug dealer. Eileen Ormsby's blog, which includes several insights into, and anecdotes from, Silk Road as well as links to published work, is at allthingsvice.com.
More like this