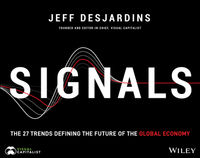 BACK
Signals
The 27 Trends Defining the Future of the Global Economy
A revealing, visual exploration of the trends and forces that will shape tomorrow's economy
Designed from scratch by the expert team at Visual Capitalist, Signals uses a data-driven approach to demonstrate straightforward, visually striking takeaways on the trends that will define the next decade of the global economy. The book highlights 27 distinct "signals" that assist in piecing together the future direction of the economy, society, and financial markets.
Each signal is accompanied by a graphical roadmap explaining how it came to be, along with a data-driven dashboard that showcases relevant datapoints. Indications of the signal's overall strength are included, as well as charts and visualizations that put each signal into perspective and show its potential impact on the global economy.
Signals is an invaluable resource for entrepreneurs, executives, policymakers, and regulators trying to get a head start on the major factors that will shape what tomorrow looks like. It's also a fascinating read for anyone with a personal or professional interest in the social, technological, and other forces that will impact how we live, work, and play in the coming decade.
More like this