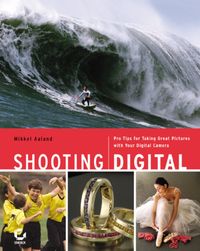 BACK
Shooting Digital
Pro Tips for Taking Great Pictures with Your Digital Camera
"Be a part of the revolution."
—Leo Laporte,
TechTV
Shooting Digital is the authoritative guide to getting the most out of your digital camera. Noted photographer and best-selling author Mikkel Aaland has drawn on his 28 years of experience in the field and collected wisdom and images from more than 30 contributors, many of them professional photographers who shoot digital every day. The result is a wealth of pro tips, shooting techniques, and technical recommendations, accompanied by stunning photographs. Whether you're a digital photographer honing your skills or a film photographer making the transition to digital, you'll be inspired and equipped to get consistently great results.
Through straightforward explanation and illustrative examples you'll learn how to:
Use digital-specific techniques to take great pictures of people, events, sports, landscapes, buildings, and products
Fully exploit the minimovie capabilities of your digital camera
Recognize and compensate for the dreaded shutter release lag
Use the LCD preview to turn portrait subjects into collaborators
Create stunning panoramas and object movies
Work with RAW data, the holy grail of digital photography
Extend the tonal range of digital cameras
Archive your digital images while on the road
And much more...
More like this