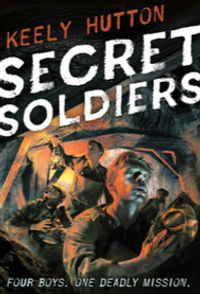 BACK
SECRET SOLDIERS
Over a quarter million underage British boys fought on the Allied front lines of World War I, but not all of them fought on the battlefield. Some fought beneath it.
This gripping MG military adventure follows the journey of Thomas, a thirteen-year-old coal miner from Dover, who lies about his age in order to join a specialized crew of soldiers tunneling under enemy lines, in hopes of finding his missing older brother. Twelve hours a day, Thomas works in the tunnels of the Western Front alongside three other underage soldiers whose inexperience in mining may prove more lethal than the enemy digging toward them. But as they work to learn the fate of Thomas's missing brother and burrow deeper beneath the battlefield, the boys forge a bond of brotherhood that may be the key to their own survival.

Keely Hutton is a novelist and former English teacher. She was a recipient of the 2010 Highlights Foundation Writers Workshop scholarship at Chautauqua. Since 2012, she has worked closely with Ricky Richard Anywar to tell his story in her first novel, Soldier Boy. Following the publication of Soldier Boy, Keely has continued to work with Ricky to bring awareness and support to his organization Friends of Orphans, which helps in the recovery, rehabilitation, and reintegration of former child soldiers and war-affected youth in Uganda.
More like this