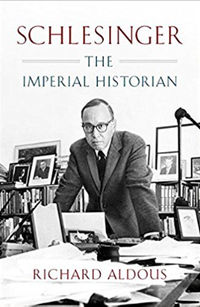 BACK
SCHLESINGER
The Imperial Historian
SCHLESINGER is the first major biography of preeminent historian and intellectual Arthur Schlesinger, Jr., a defining figure in Kennedy's White House.
Arthur Schlesinger, Jr. (1917-2007), known today as the architect of John F. Kennedy's presidential legacy - and the myth of Camelot - blazed an extraordinary path from Harvard to wartime London to the West Wing. The son of a pioneering historian - and a two-time Pulitzer Prize and National Book Award winner in his own right - Schlesinger redefined the art of presidential biography. A Thousand Days, his bestselling record of the Kennedy administration, remains immensely influential and has cemented Schlesinger's place as one of the nation's greatest political image-makers.

In this vivid account of Schlesinger's life and career, biographer Richard Aldous draws on oral history, rarely seen archival documents, and the official Schlesinger papers to craft an invaluable portrait of a brilliant and controversial historian who framed America's rise to global empire. Schlesinger promises to transform our understanding of one of the key figures of the 20th century American intellectual elite.


Richard Aldous is a professor of history at Bard College, where he holds the Eugene Meyer Chair, and the author and editor of eleven books. Aldous is a contributor to television and radio on both sides of the Atlantic and his writing appears regularly in the Wall Street Journal, New York Times Book Review and The American Interest, where he is a contributing editor. He lives in Annandale-on-Hudson, New York.
More like this