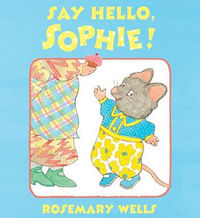 BACK
SAY HELLO, SOPHIE
Another pitch-perfect story about an irrepressible, charming, and endearing two-year-old from the creator of Max & Ruby.
Can Sophie say the word "Hello"? No! She just can't say it. Why?
Because "Hello" and "Thank you" and "Goodbye" get stuck in Sophie's mouth and won't come out. What can help Sophie say "Hello"?
As always, Granny has the answer to one of the universal problems of toddlerhood!

Rosemary Wells is the author of more than one hundred books for children, including the Max and Ruby books about the beloved bunnies who star in their own show on Nick Jr. She lives in New England.

Weblink:
www.rosemarywells.com


More like this