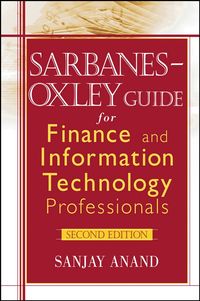 BACK
Sarbanes-Oxley Guide for Finance and Information Technology Professionals
Sarbanes-Oxley and its international variants are here to stay.
Are you prepared for this new business reality?
Changing the landscape of corporate governance, financial disclosure, and the practice of public accounting, the Sarbanes-Oxley Act (SOX) can be confusing and complex for professionals and executives who must take legal responsibility for their actions, errors, and omissions. One of the most comprehensive, authoritative guides to getting your organization Sarbanes-Oxley-compliant, the new, improved, and expanded Second Edition of Sarbanes-Oxley Guide for Finance and Information Technology Professionals provides a valuable reference for finance and information technology (IT) professionals such as CFOs, CIOs, controllers, auditors, executives, and consultants who are involved in Sarbanes-Oxley-related compliance projects.
With practical, workable advice that every finance and information technology professional must have at their fingertips, the Second Edition covers issues from scope and assessment of SOX to records and information assets management to corporate communication to integrating IT—everything that will be analyzed and optimized in order to meet the compliance and reporting standards demanded by this legislation and investors.
Valuable appendices provide the frameworks and methodologies that get you jumpstarted in your SOX initiatives or help you streamline a SOX project that is already underway.
Written by Sanjay Anand, one of the world's leading corporate governance, risk management, and regulatory compliance experts, the Second Edition features:
Key aspects and important components of the Sarbanes-Oxley Act
A methodology to achieve SOX compliancy for your company
A road map to compliance, including checklists, worksheets, and project plans
The business and technology implications and resource requirements for compliance
The future of SOX and its impact on corporate America and the world
More like this