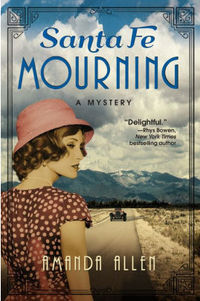 BACK
SANTA FE MOURNING
Madeline Vaughn-Alwin's picture-perfect life fades to gray when her childhood sweetheart perishes in the Great War. The aspiring painter leaves her wealthy New York family behind to travel across the country and start over in California. But when Maddie reaches Santa Fe, New Mexico, she halts her westward journey, certain she's found her new home amid the striking scenery and inspiring artistic community.
To help out around her new adobe cottage, Maddie hires the Anayas, a local Native American family. But when the father is found murdered outside a speakeasy, the police brush off the death as just another inebriated man finding trouble. Shocked and distraught, Maddie takes on the case herself. But as she investigates, she learns that the Anayas' home life was not what it seemed. And just as she's starting to see the bigger picture, the autopsy reveals that her suspects' alibis don't hold up in Santa Fe Mourning, Amanda Allen's richly evocative first Santa Fe Revival mystery, perfect for fans of Victoria Thompson and Rhys Bowen.

Amanda Allen is the pseudonym for an award-winning, multi-published author. A history junkie since she first read Jane Eyre at age 10, she loves spending her days lost in other time periods. When not reading or writing, she loves yoga, dance classes, watching too much HGTV, and online shoe shopping. She is a member of Mystery Writers of America and Sisters in Crime, and she lives in Santa Fe, NM with her lovely husband, a spoiled dog, and bossy cat.
More like this